Press
Nature-friendly, pigment printing allows to extract all CMYK colors and replicate identical image on linen.
We use rail meters (1,5m x 1m), we can prepare the layout of the image according to your needs. Layout depends on model of the product and positioning of the template and the stamp.
We offer our own linen fabrics, we have natural (w/o additives) linen with three surface densities and bleached linen with three surface densities.
Natural linen:
150g / m2 (suitable for scarfs, clothes, bedsheets, kitche towels)
280g / m2 (suitable for table linens, bags, decorative pillows).
Bleached linen:
140g / m2 (suitable for scarfs, tunics)
185g / m2 (suitable for clothes, bedsheets, hand towels),
280g / m2 (suitable for table lining products, bags, decorative pillows).

Your own fabrics can be used, but if you want to use fabric other than linen – we cannot guarantee the quality of the printing, because our machine is specifically calibrated for working with linen.
If you want to use your own linen, its size must be larger for us to be able to prepare the machine for work (minimum length of linen fabric for preparation of machine must be 5 meters. So if you want to order 10 meters of prints on your linen, you will need to provide a 15 meters long roll.
We will not print on very thick, rough linen. We don't work with colored linen.
Softening
Printed fabric can be softened up. For this task we use the services of "Jogle". Be aware that a piece of fabric becomes about 7% smaller after softening.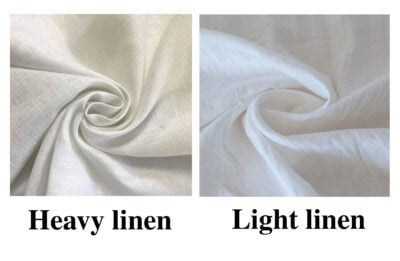 Advice
Choose pictures that have fewer dark colors, because they might break and have visible distortions after a few washing cycles. It is caused by wrinkling and is not the fault of printing quality. Same as belt buckles causing wrinkles to appear on leather belts.
If you want your picture to be used as an application – choose the dimensions that would allow placing as many copies as it is possible on a rail meter, for example, it is possible to produce even eight pictures from one rail meter.
Files
We accept .lpg, .tif, .pdf file format. Send them to linenislove@gmail.com or use our "create" option.   We provide layout design services. Before printing the file, we can send you a preview.